A Child Contact Centre is a safe and neutral environment where the child is the most important person. The child remains at the centre of the entire process.
They are given the opportunity to spend time with the parent or family members with whom they do not usually live.
Safeguarding all parties involved in contact is our prime concern.
Risk assessments are completed to ensure the needs of children and adults are addressed.
All staff have backgrounds in: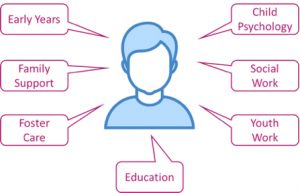 YMCA Bournemouth Child Contact Centres have a variety of venues offering age appropriate facilities and resources across Bournemouth.
We offer three levels of service
Supervised Contact
Supported Contact
Handover
Supervised Contact
Supervised Contact offers children the chance to spend time with their parent or relative where there has been, or continues to be, a concern regarding the adult's care for the child.
Observation notes are taken throughout the session and shared with all parties.
Supported Contact
Supported Contact offers children the opportunity to develop their relationship with the parent or relative with whom they do not live.
This is usually in a group, but can sometimes be on a 1-1 basis, depending on the child's best interest. Staff and volunteers are on hand to offer advice, guidance and activities.
We offer an impartial service and aim to work with both parties to ensure a positive experience for the child.
Handover
Handover offers the child a safe place to meet with their parent or relative at the beginning and end of contact within the community, avoiding any contact or conflict between the adults.
Contact Centre Locations and Facilities
The Stourvale Centre, Southbourne
108 Stourvale Road, Bournemouth BH6 5JB
An ideal venue for under 8s with a safe outdoor space, sensory play, a playroom with toys/games, and a kitchen.
Townsend Youth Centre
Jewell Road, Bournemouth BH8 0LT
A suitable venue for all children and families. Includes a multi-use games area, a garden, fully equipped kitchen, pool table, toys and games.
Opening Hours
Monday – Sunday   9am -7pm
Opening hours are flexible according to the needs of the family. Not all sites are available every day.
Please contact us on the form below for more information.
Fees
Referrals
We accept referrals from professionals, including from CAFCASS directly, but also self-referrals from parties wishing to use the service.
Please click here to download the referral form in Word (best completed on a desktop rather than mobile device) or here to download the pdf version.
Please call us on 01202 434310 or contact us on the form below with any questions, or submit a completed rererral form to ccc@ymcabournemouth.org.uk Completed forms can also be delivered to YMCA Bournemouth Child Contact Centre, The Stourvale Centre, 108 Stourvale Road, BH6 5JB
Additional Information
YMCA Bournemouth are accredited by the National Association of Child Contact Centres (NACCC)
The service remains aware of and responds to the needs of adults and children with impairments.
How You Can Help Us!
We are a charity and any help you can offer us, whether it be a donation, taking part in one of our fundraising events or volunteering your time, is hugely appreciated. Thank you!
Parent Feedback
We welcome feedback regarding all of our facilities and services so please don't hesitate to get in touch using the form below if you'd like to give us some feedback or make some suggestions.
The attached video shows the words that appeared most frequently in feedback from parents across a range of courses.
Get in touch
Child Contact Centre
c/o The Stourvale Centre
108 Stourvale Road
Bournemouth
BH6 5JD