We believe every family should have the support they need to develop and lead more fulfilling lives
We are aware of the need for parents to have a break over school holidays and similarly for children to have interesting, safe activities in which to take part. For this reason we are committed to providing low-cost holiday clubs for local families.
Children aged between 5-11 years can enjoy our Inspire Holiday Clubs in Bournemouth during both summer holidays and half-terms. The Inspire clubs are designed to allow children who may otherwise not have the opportunity to experience new sports, enjoy team and personal challenges and to have fun! Famillies living nearer Broadstone can instead send their children aged between 5-12 years to enjoy The Junction Holiday Activities.
Meanwhile, for children aged 2-4 years, Teddy's Pre-School in Pokesdown offers a Holiday Club in July and August.
Inspire Holiday Clubs (5-11 years)
We believe everyone should enjoy the benefits of good health and wellbeing, which is why we combine our holiday clubs with brilliant sporting activities. The events are coordinated by experts from Lifewise Gym & Sports Hall and The Junction Sports and Leisure Centre.
Why take part in one activity when our Inspire instructors will deliver a whole host of sporting sessions, games, competitions and challenges in one day, all designed to encourage involvement, allow children to experience new sports … and have fun!
The day begins at 8.30am and collection is from 3.30pm – 5.00pm depending upon location.
Activities will include some of the following:
American Baseball
Fitness 'Obstacle' Course
Javelin/Discus
Basketball Shootout
Wimbledon Tennis Trials
Curling Challenge
World Cup Penalty Shootout
Racket Attack
Cricket/Rounders
Obstacle 'Bootcamp' Courses
Hockey
Team Relay Events
Soccer Star Challenge
Olympic Athletics
Table Top Games
Arts & Crafts
Movie & A Meal (some locations only)
Locations
Holiday clubs take place on most school holidays.
The Stourvale Centre
108 Stourvale Road, Bournemouth BH6 5JB
Forthcoming dates: See our Holiday Activity Progamme

Townsend Youth Centre
Jewell Road, Bournemouth BH8 0LT
Forthcoming dates: TBC
Fees
The standard cost of our Inspire Holiday Clubs is from £7.50 per day. The prices for individual clubs will differ: please check the links above for details.
Booking
To book, please send us the appropriate application form, complete it and return it in a sealed envelope with cash or a cheque made out to 'YMCA Bournemouth' and deliver it to the location described in your application form. You can alternatively pay by phone – please see your application form for details.
If you have any queries or would like to be sent an application form, please contact us using the form below.
——————————
The Junction Holiday Activities (5-12 years)
We offer a range of holiday activities at The Junction Sports & Leisure Centre in Broadstone priced from just £10 per day.
All activities start from 8.30am – 9.15am and collection is at 4.00pm.
Activities include:
American Sports
Trampolining
Adventure Club
Ultimate Sports
Dance Fusion
Nerf Quest
Acro Dance
Soccer Stars
Dynamic Divas
Dodgeball
Minecraft
Location
The Junction Holiday Activities take place on all school holidays.
Fees
From £10.00 per day.
Movie and Meal available 4.00pm – 5.30pm for £3.50.
Bookings by phone

The following day/times are available for bookings by debit/credit card:
Monday 1.30pm – 3.30pm & 7.30pm – 8.30pm
Wednesday 10.00am – 12noon
Thursday 10.00am – 12noon
Friday 10.00am – 12noon
Saturday 2.00pm – 4.30pm
If you have any queries or would like to be sent an application form, please contact us using the form below or call 01202 777766 to book.
——————————
Teddy's Holiday Clubs (2-4 years)
Based at Teddy's Pre-School in Pokesdown, our summer holiday clubs for pre-schoolers offer the usual fun as well as some summer-themed indoor and outdoor activities, including cooking, gardening and local trips.
Children can attend for as many or as few sessions as required, and either for half or full days.
Available Dates
Monday 20 July to Friday 24 July 2020
Monday 27 July to Friday 31 July 2020
Monday 3 August to Friday 7 August 2020
Monday 10 August to Friday 14 August 2020
Fees
£25.00 – 2-year-olds per day (9.00am – 4.00pm)
£20.00 – 2-year-olds per half day (9.00am – 12noon or 1.00pm – 4.00pm)
£20.00 – 3 or 4-year-olds per day (9.00am – 4.00pm)
£15.00 – 3 or 4-year-olds per half day (9.00am – 12noon or 1.00pm – 4.00pm)
(8.30am drop-off option for an extra £3.00 per day/session)
Location
These holiday clubs are based at Teddy's Pre-School, 34 Somerset Road, Bournemouth BH7 6JJ
Booking
Fees must be paid in advance and no bookings will be permissable on the day.
To reserve your place, please request and complete our booking and registration form (if you are not a regular teddy's attender then a registration form must also be completed) and return it to teddys@ymcabournemouth.org.uk or deliver it to: Teddy's Pre-School, 34 Somerset Road, Bournemouth, Dorset BH7 6JJ.
If you would like a booking form or have any questions please contact us using the form below or call us on 01202 391500.
——————————
How You Can Help Us!
We are a charity and any help you can offer us, whether it be a donation, taking part in one of our fundraising events or volunteering your time, is hugely appreciated. Thank you!
Last year, over 5000 children enjoyed our holiday clubs… while their parents enjoyed a break!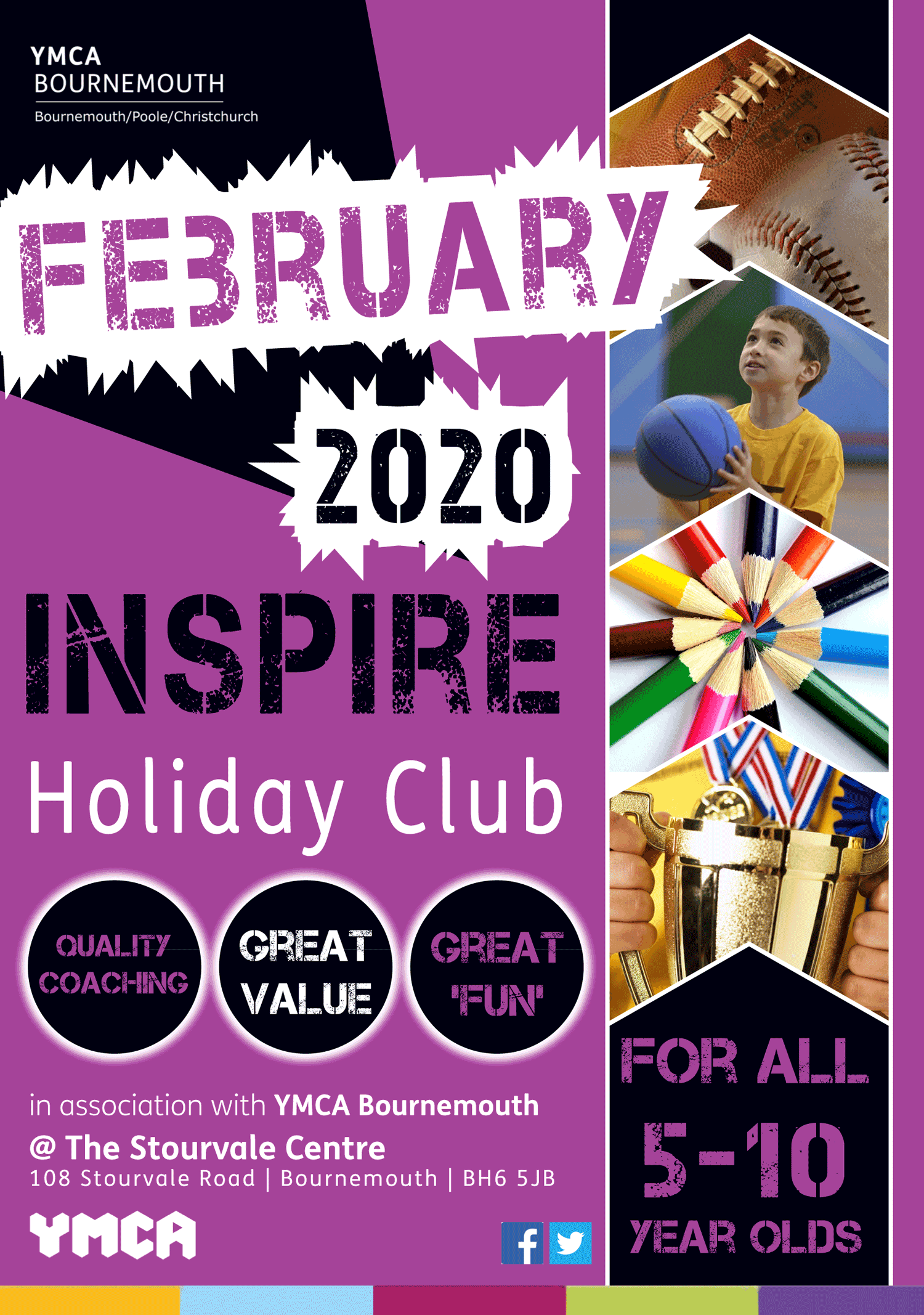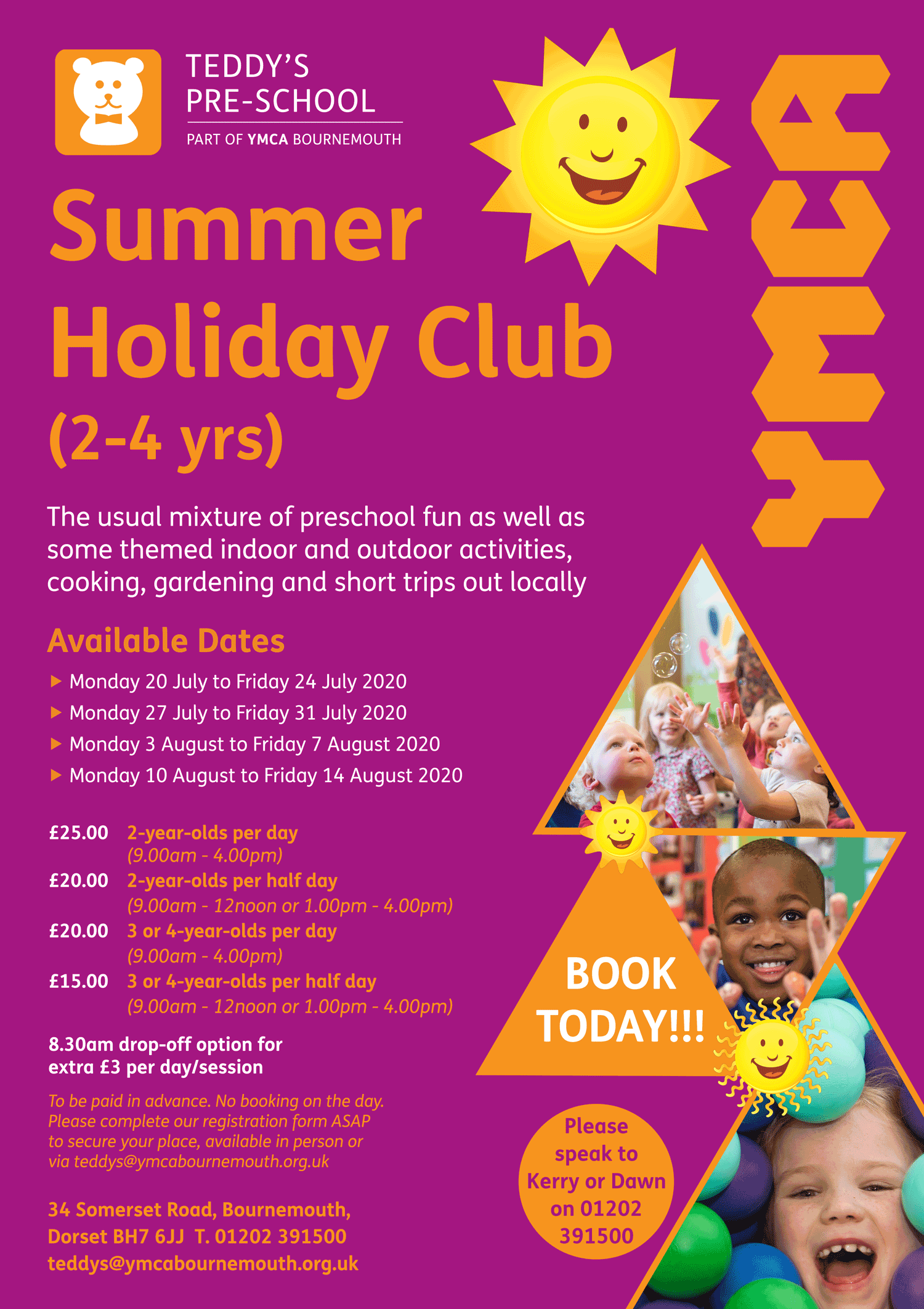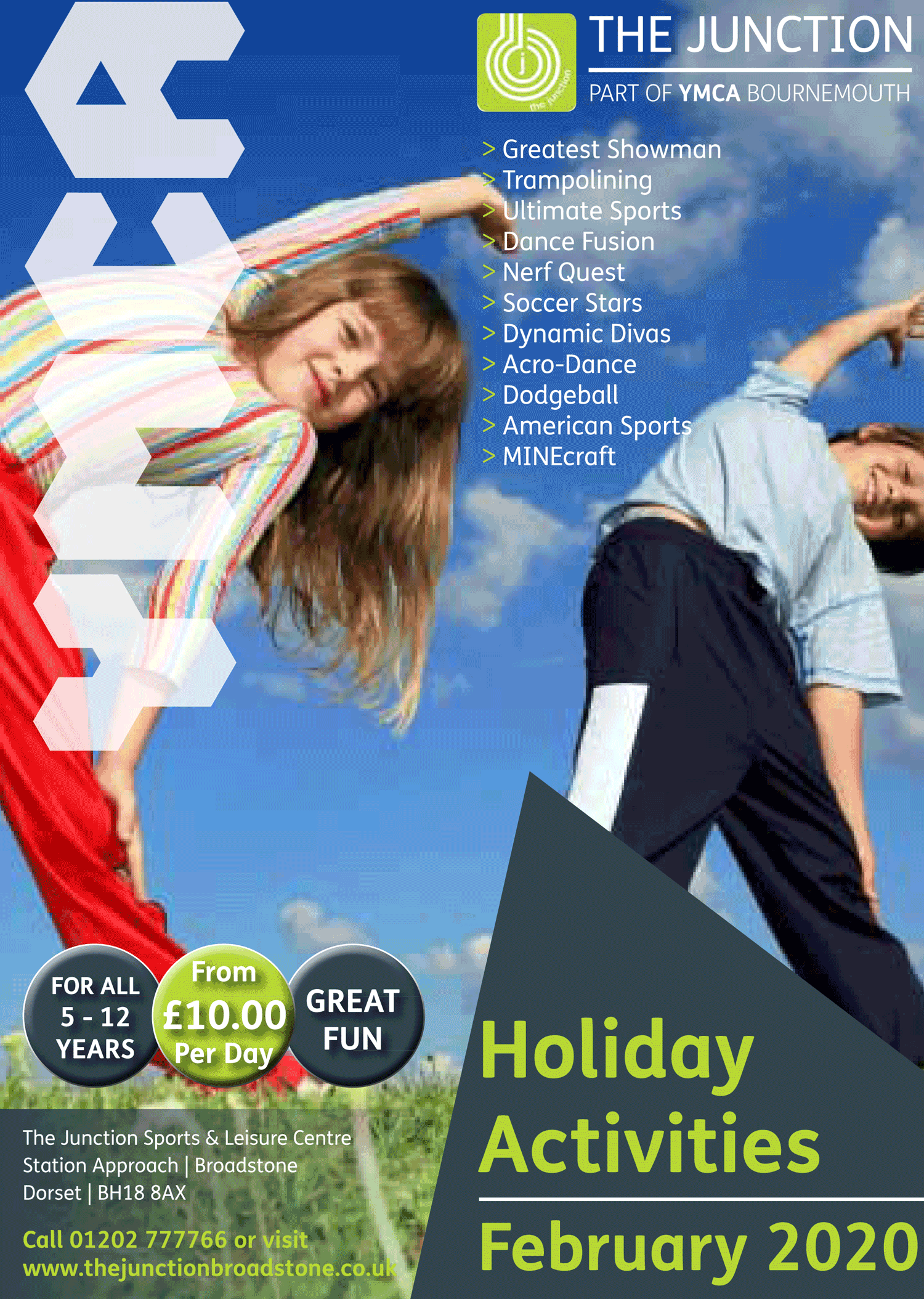 About YMCA Bournemouth
We work across five key areas – Housing & Support, Family & Relationships, Youth Work, Training & Education, and Health & Wellbeing – to enable people in our local community to develop their full potential in mind, body and spirit.